Ribbon Folding, Fish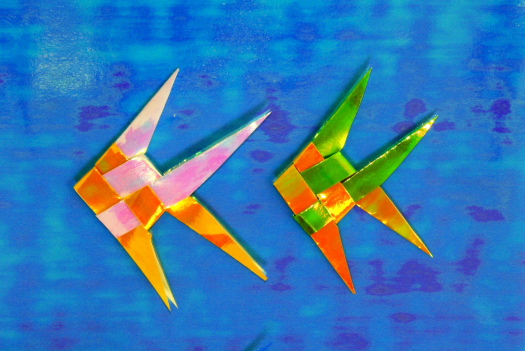 Today we will be telling about Ribbon Origami. You need stripe paper or ribbons. In the future we will be introducing Knotology. As Knotology is made with stripe paper too in some sources it is mentioned as Ribbon Origami.
We will be making a very simple yet beautiful fish. Let's see if you will like it.
The related explanations for foldings are below the pictures.
1. We need two pieces of stripe paper. For future you may want to try ribbon or similiar materials.
2. Join the stripes as seen in the picture then place the "B" end between number "1" and "2" ends.
3. Drag number "1" end through "B" end.
4. Drag "B" end over number "2" end and under number "1" end as seen in picture.
5. Turn over the model.
6. Drag number "1" end through number "B" end.
7. Cut out the spotted lines for the tail and fin.
8. Here your fish is ready.Balığımız hazır.
9. This fish is made with three pieces of stripe paper. We will show it later on.
2009-03-09 02:33 Categories:
Diagrams
You may also like