Origami Rose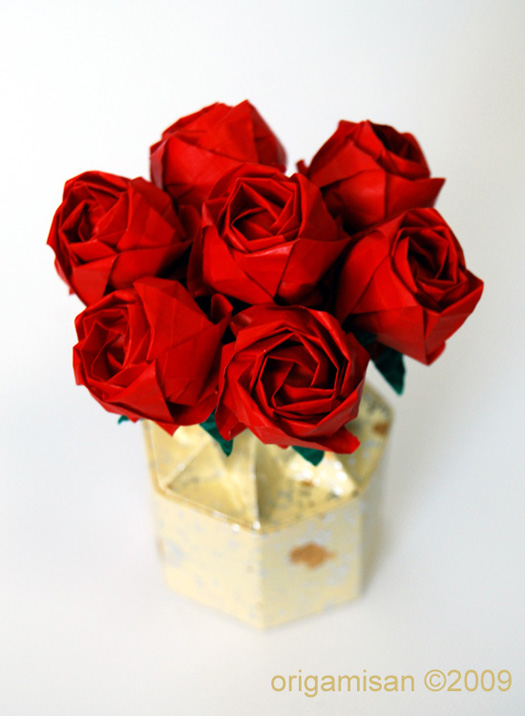 Rose tutorial has been the most demanded model since Origamisan was set up. Here comes the big day and we are publishing the rose video by making the Mother's Day reason for it. If you would like to give something different to your mother this year , let's fold together. Here are the instructions.
Materials:
Any paper colour choice of your desire with 15 cm X 15 cm size. It is better to have same colour on both sides so be careful as choosing your paper.
To make the leaf both sides green paper with 7,5 cm X 7,5 cm size.
To make the stem both sides green paper with 1,5 cm X 15 cm size.
Important Points
We used a piece of paper which has different colours on the front and back to make the video clearer however we recommend you to have a piece of paper with the same colour on both sides. However please be aware that it is very important to know the front and the back of the paper for that matter we advise you a make little sign with a pencil on the front of the paper.
To make it clearer we signed front of the paper with a pencil but then you can erase it.
Folds are repaeted for each corners so if you missed or did not undertand you can just follow the next step or simply revise the former one.
As you are joining the pieces you can use a tool with a slim point.
If you like you can put your roses in this basket which we have done before.
This model might be too hard for the beginners.
Depending on your internet connection, it may take time for the video to be downloaded. Before refreshing the page please make sure the download has finished.
Video Tutorials
2009-05-08 09:09 Categories:
Origami Blog
You may also like